Unc
Does GIMP have the capabilities to create halftones? If so, how would one go about doing this. I would like to halftone photos for screenprinting purposes. I would appreciate any help or tips.
---
---
Cartocopia.com - Fantasy Mapping by RobA>
---
Yes, there is.
Select Filter - Distorsion - Newspaper
Do you find something similar?
---
---
Your mind is what you think it is.
---
Posts: 1
Joined: Wed Jun 15, 2011 12:59 am
Linus wrote:I don't think the newspaper filter will do halftones. Or I haven't figured it out. Has anyone been successful with this yet?
It will, you just need to align all the colors...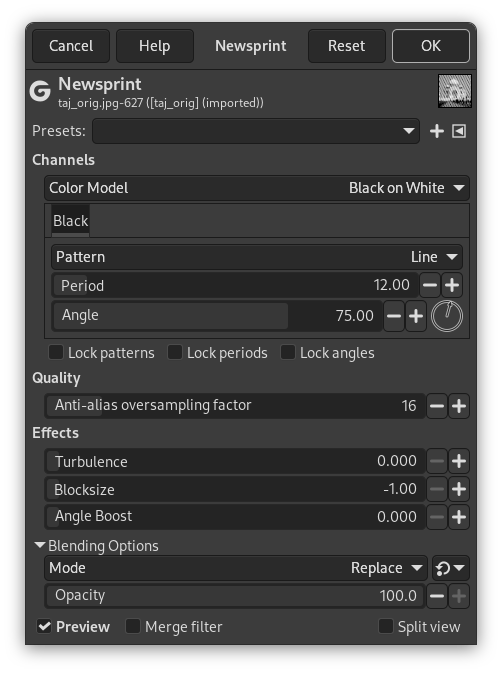 Normally, the Red / Green / Blue dots are not aligned together so they display apart. But if you align them together first, they show as black dots.
Change the Angles in ALL THREE COLOR TAB (Red, Green, Blue) channels to 0.0 (zero point zero). If you're doing it in CMYK, change them in all four.
Once they're all the same value, you'll notice in the Preview box that they're overlayed. That means black. Check the 'Lock Channels' box.
Now, when you slide the Angle bar to offset those dots, they're all locked together and you can angle them as black dots.
Oversampling makes the dots smoother. I usually slide that bad boy all the way up to 15.
Size is important. You don't want the dots to be too large and look like a polka dot dress instead of shading. I find a Cell Size of '6' works well for 300dpi images.
Once you have your nice smooth black Halftone circles, you can Import that into Inkscape, Trace the Bitmap, and change the color from black to whatever you need to achieve the look you need.
---
---
Who is online
Users browsing this forum: No registered users and 1 guest